To:

Mark Harper, Secretary of State for Transport
Cut their profits, not our ticket offices!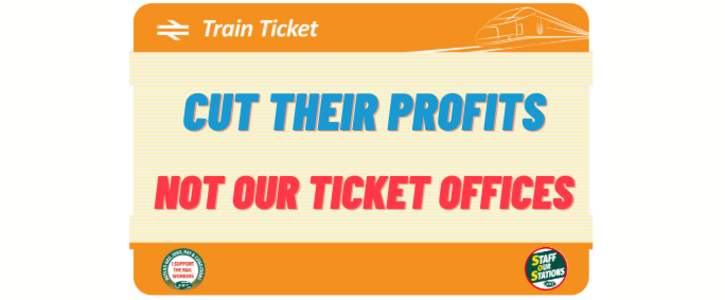 RMT is opposing plans by the Government and Train Companies to close nearly one thousand ticket offices across the rail network.
We believe that ticket offices and station staffing must be protected in order to maintain passenger service, safety, security and accessibility.
Why is this important?
Earlier this year, the Government rushed through changes to its guidance on how it deals with ticket office cuts and closures. RMT believes that this was done in order to make it easier to close ticket offices. Despite the massive implications for passengers, the Government says it will not consult publicly on changes to the guidance.
It has now been widely reported that the Government and rail industry are looking to close nearly one thousand ticket offices across the country.
The Government and rail industry say that staff will be 'repurposed', yet they have failed to give any commitment that staffing levels will be maintained.
We believe these plans are not about improving the passenger experience, but rather cutting jobs and protecting the profits of the train companies.
In a recent survey of RMT members, nearly 90% of station and ticket office staff said plans to close ticket offices and make all staff 'multi-functional' would have a detrimental impact on the passenger experience and on passenger accessibility.
We know that closing ticket offices will worsen the passenger experience and safety, security and accessibility. The impacts may be particularly severe for disabled and elderly passengers and those requiring additional support.
Elderly and disabled people, and people on low incomes are less likely to have access to the internet and are excluded by the push to online and electronic ticketing.
These plans ignore the much wider role that ticket office staff provide in addition to sales, including providing a wide range of advice and expertise and navigating the complex ticketing system to ensure passengers are not overcharged.
The ticket office provides a point of safety and security, and at many stations access to facilities such as toilets and waiting rooms relies on the presence of staff.
The planned closure of ticket offices are part of a wider industry attack on jobs and services. Yet at the same time, the private rail companies take in excess of £500m in profits annually and many rail bosses take home pay £1 million+ pay packets.
Closing ticket offices is about protecting private profit, not passengers.