Stop the rot, remove the Mold: rally to remove Northamptonshire PFCC Mold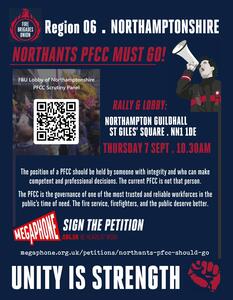 On the 7th September we expect the Police Fire Crime panel to finally hold Police, Fire and Crime Commissioner (PFCC) Stephen Mold to account.
The PFCC is elected to govern the Fire and Rescue service, a trusted and professional profession. PFCC Mold has made decisions that bring his own integrity in to question.
He appointed his "friend" and Monitoring Officer to the role of Chief Fire Officer then let them take the fall for his mistakes.
The PFCC must resign. We need the panel to tell him so.
Come and join us in ensuring the panel know how firefighters and the public feel.
https://forms.office.com/pages/responsepage.aspx?id=0t_aotgISkOl4aVmN7p7McevlbL3mxlOkgYl2Rs6tZ5UOUVXT1M2NTE0MlNURVJINzZZQzFXNlZHSS4u
Starts on
Thursday, 7 September 2023 at 10:30 AM BST
Ends on
Thursday, 7 September 2023 at 2:30 PM BST
Partner
Links