To:

Mark Wallace , Kingdom Service Group Managing Director
Pay Royal Berkshire Hospital security staff a wage they can live on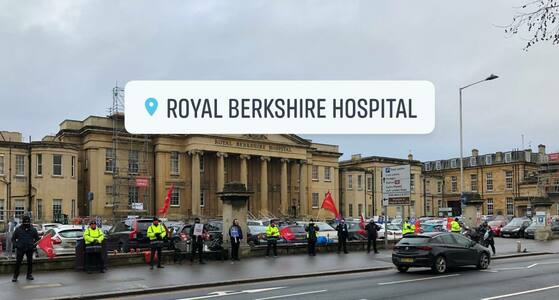 Security staff at the Royal Berkshire hospital have been on the frontline working harder than ever throughout the pandemic. Their employer, Kingdom Services Group is a major corporate service provider with a £100m plus turnover. It is cynically using the cover of Covid to drive down their employment conditions and deny them the fair and decent pay rise they deserve.
They've been on strike since the 14 December 2020.*
Why is this important?
Our members don't want to strike, particularly not in the middle of a global pandemic. They just want a wage they can live on, but Kingdom management's refusal to engage in meaningful talks over the 2020 pay award, harmonisation of sick pay, as well as enhanced pay for working nights, weekends and overtime has left them with no other option.
These are low paid guards, who provide security 24/7 for the Royal Berkshire Foundation Trust. The £12p/h for security officers and £13p/h for supervisors they are seeking is modest and affordable. For Kingdom to exploit the pandemic to drive down pay is totally unacceptable.

Please Show your support for Kingdom security guards at the Royal Berkshire Hospital. Add your name to our email to the Managing Director, urging him to get back around the negotiating table with Unite and pay his staff fairly.
*The Unite members first went out on strike on 14 December for five days. The second strike action started on the 4 January for a further 20 days. More action is planned.